An End To Squatters Rights
It seems that not a day goes by without another callous Tory policy, designed it seems to harm and terrorise anyone who struggles to put food on the table or in this case, a roof over their head.
On the 1st of September a new law comes into force that criminalises squatting in residential properties. Despite there already being adequate laws to protect the homes of people who actually live there, it was deemed necessary to bring in a new law that would cover unused and abandoned houses as well.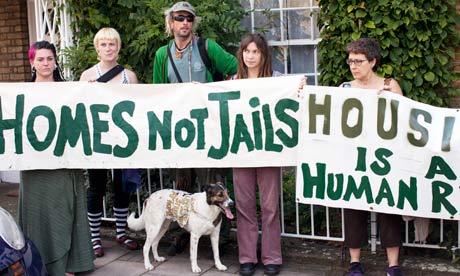 And unlike squatters who live at minimal cost to the taxpayer, the new law does not come for free. Squatter's Action For Secure Homes (SQUASH) published a report that estimated the total costs of the new law could be between 300 and 800 million. Those figures take into account housing benefits, provisions for the newly homeless, costs of policing and the courts system.
So why do it? At a time when banks are repossessing homes at an alarming rate, with joblessness, homelessness and hunger are on the increase? It's all part and parcel with the Tories insane attacks on the poor and vulnerable, their slavering devotion to the interests of banks and big businesses.
The new law is a law for profiteers of the worst sort, there to protect those who do not buy houses to live in, but to sell at a profit. They are called speculators and have been one of the most despised groups throughout history because, essentially, they make money from the misery of others. For a speculator, homelessness is a good thing, because the more people there are desperate for a place to live or in cramped and crowded conditions, the more their property goes up in value. As demand increases, supply stays the same so the prices skyrocket and the speculator lights up another cigar.
Squatting has been a kind of rebellion against this mentality and a part of England's proud tradition of social welfare. If a house stands unused for 5 years and you need a home, then should it be a crime to simply put it to good use? Surely leaving a good building to fall into deeper disrepair, becoming an eyesore and a blight on the neighbourhood is the greater crime. Most squatters will give the building a lick of paint when they move in, take the boards off the windows and tidy the garden. Some will host events, create art galleries and social centres.
Indeed, most squatters are not lazy shiftless individuals looking for a free place to live but talented and dedicated individuals who have chosen a life path that does not pay the bills. They are the musicians, artists and poets who make creativity their life's pursuit, the highly spiritual who choose to live apart from money and mainstream society, and the full-time activists who push for social justice.
Squatting will continue unabated, the new law does not apply retroactively, which is to say that those who are squatting now do not need to worry about a sudden eviction. Some will move to commercial properties which might mean larger squats with the capacity to be fully fledged social centres. Some will continue to squat residential properties despite the new law.
Posted by
Donny_Vortex
on Aug 30 2012. Filed under
Human Rights
,
Latest News
,
squatting
,
Uncategorized
. You can follow any responses to this entry through the
RSS 2.0
. You can leave a response or trackback to this entry